Attend a Burchmore auction if you are looking for wholesale deals at a car auction. Birchmore Cars started in 1911 as JC Burchmore's and one of the first auction companies in South Africa. Letting people around the country buy and sell a variety of vehicles on auction. At the first auction 10 cars were sold but today over 50 000 vehicles are sold per year. Burchmore's has a R1 billion annual turnover and is the largest vehicle remarketing company in South Africa.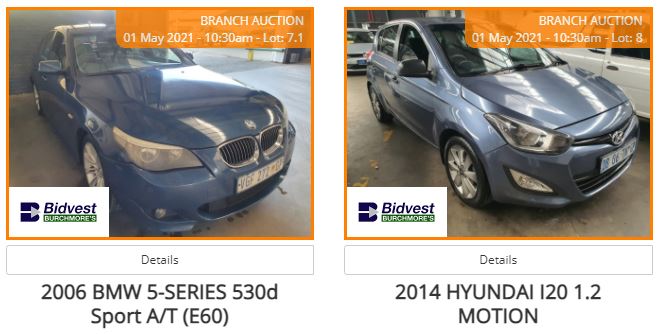 In 1998, Burchmore's was acquired by McCarthy Motor Holdings. And have since auctioned over 900 000 vehicles. The company is known for having a large selection of vehicles at its countrywide branches.
Burchmore auction events offer:
Repossessed vehicles
Fleet disposal vehicles
Trade-in vehicles
Non runner cars
Accident Damage Cars
This may also interest you: Buy Accident Damaged Cars at Vehicle Auctions
What does Burchmore's do?
As one of the largest auction houses in South Africa, Burchmore's take on the sale of vehicles on behalf of vendors. And sell these vehicles to buyers on auction.
Most customers are businesses such as manufacturers, fleet operators, leasing houses, finance houses, national authorizes and rental companies.
So at any time, Burchmore's usually have over 2000 vehicles available (South Africa's biggest selection). Ranging from salvage vehicles and repossessions to cars that are nearly new. Offered at very competitive prices with warranties and financing also available.
Examples of Burchmore Auction repossessed cars for sale:
Bidvest Repossessed Cars
Wesbank Repossessed Cars
Standard Bank Repossessed Cars
MFC Repossessed Cars
Auction sales are held bi-weekly at all auction centres (with bank repossession auctions every Saturday). And each of the three branches is open every day of the week. Burchmore's branches can be found in Sandton, Durban, and Cape Town.
A Quick Guide to Buying on Auction
To buy on auction, you need to go through an Auction Registration Process.
What do I need to register as a buyer?
A refundable bank guaranteed cheque or credit card deposit. No cash or personal cheques are accepted.
Proof of identity: Identity Document or Driver's License.
Completion of a registration form.
After you have completed the registration form, you will be given a buyer's number. Because this will allow you to take part as an auction bidder. Your deposit will be refunded if you choose not to buy anything on auction once the auction has concluded. However the deposit will be forfeited if you fail to take up items on which you have bid.
Why a Burchmore Auction?
Because Burchmore's are the only auction centre that has a drive through auction viewing, with each vehicle driven through the podium. This means the process goes a lot faster and allows you to see and hear the running engine of the vehicle.
There are a large number of vehicles at all three Burchmore's outlets. So each store has an internet café facility that allows you to search for specific vehicles on site. You can relax and enjoy a free cup of coffee while you search through the cars on offer.
Auctions are open to the public for viewing.
All centres are open 7 days a week, with Saturdays being the busiest trading day.
Burchmore's also sell off the floor, not only on auction. The department dealing with off the floor sales has more than 2000 cars on offer.
Trade-ins are welcome for off the floor sales.
As part of McCarthy, Burchmore's are able to offer clients a range of insurance and other financial products backed by McCarthy.
Accreditation
Burchmore's is the only British Car Auctions (Europe's premier vehicle remarketing company) license holder in Africa.
The company is an African Institute of Auctioneers. (S.A.I.A.) member.
Cape Town branch
To attend a Burchmore auction in Cape Town: Based in Montague Gardens, this modern remarketing complex is sited only 20 minutes from the Cape Town city centre. Auctions are held every Wednesday evening at 18:30, and every Saturday morning at 11:00.
Contact Burchmore's Cape Town
Physical address: Unit 9B Phumelela Park, Montague Drive, Montague Gardens (GPS coordinates: 33S52.286 18E30.832)
Telephone Number: 021 525 2700
To get to the Cape Town branch from Bosmansdam drive turn into Montague Drive and after the first traffic light you will see Phumelela park on the left. Go through the Phumelela Park boom gates and turn right, then your first left. You will see Unit 9B is on the left hand side.
Burchmore Auction Online
These days you can visit the Burchmore website to see what cars are for sale in their online auctions.
This can be a handy tool. Because you can see pictures and details of upcoming events. As well as details of the cars for sale such as:
Vehicle make and model
Mileage
Condition of the car
Asking price of vehicles
Service history of cars
In addition you can use the website to apply for car finance from Bidvest Bank. So everything can be done from the website making it convenient for the customer.
To Summarize
In summary we have learnt that attending a Burchmore auction or browsing online will help you buy a decent car. Not only decent either but a vehicle at a lower price than you'll find at most dealerships in South Africa.
So check them out today. You can visit the birchmore website to see dates and times of upcoming auctions.
Therefore it doesn't matter where you are in the country. You can quickly review car makes and models coming up for sale at the latest auction.