Without even leaving the comfort of your home or office, you can search Gumtree Cape Town for cars new and used, along with a host of other classifieds trading and job options.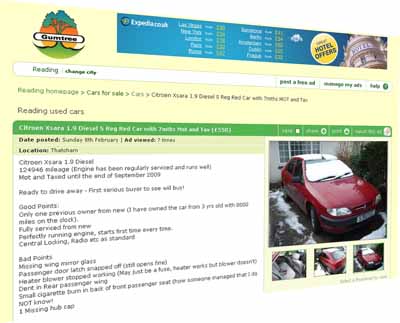 What is Gumtree?
Yes, it is a Koala's favourite food, but Gumtree is also an extensive online classifieds network that is available in a number of countries around the world, including the United Kingdom (where Gumtree started), Ireland, Poland, Australia, South Africa and New Zealand.
The classifieds covers 60 cities, one of which is South Africa's Cape Town. On Gumtree, you can buy, sell, peddle, pawn, exchange or advertise just about anything. The best part is that placing and viewing these advertisements is completely free, unless you choose specific paid-for options such as highlighting your ad.
How can I find a new or used car on Gumtree?
Gumtree's success is largely due to its user-friendly interface and the fact that you can use it for free. This makes it very easy to search Gum tree Cape Town for cars new and used. To get started, simply type in www.gumtree.co.za in your browser homepage. This will take you to the South African website and automatically takes you to Cape Town as the homepage. If you want to look at a different city or view listings in the whole of South Africa you can simply change the search criteria on the top right hand corner.
On the homepage, you will also see a listing of the various categories of goods for sale. If you are looking for a new or used car, simply click on the Cars/ Vehicles listing to see what is available in the Cape Town area. For a more specific search, you can choose a sub-category, such as bakkies/ cargo vans or farm vehicle/ equipment. Once you have selected you category, the car options available will come up. On the left hand side of the webpage you can find options to revise your search. There is also an option that allows you to designate your price range.
When you see a car that you are interested in, you can reply to the advert by entering a message, verification code as well as your email address in the "Contact poster by email" box. This is on the right hand side of the page. The poster of the ad may also provide contact details, which you can use to get in touch with the person selling the new or used car of your choice. The person who posted the ad will then receive your email and can contact you directly if you choose to do so. Be sure to type your email address correctly so that the advertiser can get back in contact with you. You can also choose to have your message sent to your email address.
When you search Gumtree Cape Town for cars new and used, you should keep in mind various safety tips to avoid any dodgy dealings.
Make sure that the vehicle you are buying does not have finance owing and doesn't need any major repairs.
Before handing over thousands of Rands to someone you don't know, conduct a thorough inspection of the vehicle and research your purchase to make sure you are being charged the right price for the car, be it used or new. The owner should let you see the vehicle before you buy it. Photographs may not show you all the cosmetic or other damage a vehicle may have.
Take the car for attest drive to get a good feel for it and listen or feel for anything that seems rickety.
Ask for the identification of the person selling the vehicle to make sure that the names match up on the registration. Check that all registration details match up with the specs of the car (such as the chassis, plate details and engine).